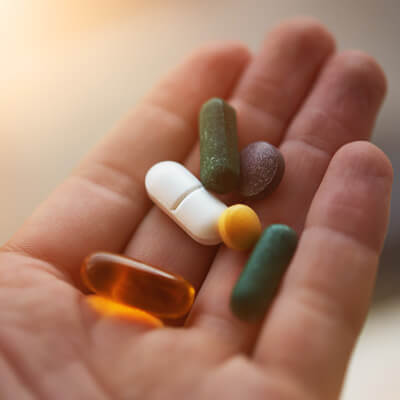 Supplements at
Progressive Chiropractic
Chiropractors believe nutrition plays an important role in overall health and wellness. Dr. Mark has found most people are deficient in several important nutrients. As a Certified Chiropractic Wellness Practitioner (CCWP), he prescribes supplements to increase the nutrient level needed to improve his clients' results, their response to chiropractic care, and their quality of life.
Good nutrition and spinal health work together for better health outcomes. When a patient constantly ingests foods with poor nutritional value, it may have unhealthy side effects. Clients with balanced nutritional habits often feel the benefits of chiropractic faster.
NEW CLIENTS

Chiropractic Care and Nutrition
In some cases, a patient's condition may have resulted from a nutritional deficiency. That's why it's important to pursue a holistic approach to care. All factors, including nutrition, must be considered before any therapy proceeds to prevent further deterioration in the patient's overall health.
A person will only benefit from care as much as their health and lifestyle allows them to. Nutritional supplements are dietary substances that provide missing nutrients to your body. With good supplementation and nutrition, we're giving the body the building blocks it needs to heal and benefit from care to the greatest degree possible.
Dr. Mark doesn't use a lot of supplements, but the ones he prescribes have good research behind them. They decrease inflammation in the body, and provide nutrition to the nervous system and the joints, which is very relevant to chiropractic care.
Choosing Supplements
We use Innate Choice supplements, a higher quality supplement at a reasonable price. The higher the quality supplement, the easier it is for the body to absorb, and get more benefit from.
Nutritional supplements are essential to support your body until you're fully healed. We'll recommend nutritional supplements in the proper dosage to speed up the healing and recovery process. We also have brochures and other information on supplementation for your convenience.
Nutritional supplements have numerous benefits, and they provide you with what you need to achieve optimal health.

Supplements Victoria BC | (250) 590-7319