Meet Dr. Mark Smith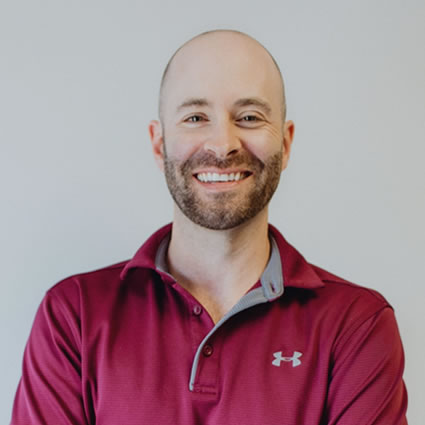 Victoria Chiropractor Dr. Mark Smith really enjoys what he does, and it shows. He has always had a desire to help people, and when he discovered what chiropractic could do, he was hooked!
When you first meet him, his welcoming smile lets you know he's happy to be here, enjoys what he's doing, and wants you to be pain-free and living your best life.
Choosing Chiropractic
Dr. Mark attended the University of Calgary, majoring in Kinesiology. While in his third year, unsure of what career to choose, he went to a job fair and met a chiropractor. Knowing nothing about the field, he decided to shadow the doctor during one of his shifts. After the doctor adjusted a patient, he saw how the patient got up from the table looking and feeling so much better.
At that moment, he knew what he wanted to do. Dr. Mark describes the experience like a light bulb going off in his head!
EXPLORE OUR SERVICES

An Education in Chiropractic and More
Dr. Mark received his Doctor of Chiropractic degree in 2011 from Life University in Marietta, Georgia. A more holistic and proactive philosophy of health, the vitalistic aspect of chiropractic, confirmed this path was completely different from anything he had previously experienced. Dr. Mark also gravitated towards the extremity adjusting classes, partly fueling his increased use of these techniques in his clinic.
Outside the Practice
When he's not in the office, Dr. Mark is home, taking care of his kids, working in the yard, or taking care of the house. He's all about his family—his wife Melissa, son Lincoln, and daughter Avaya—and spends as much time as possible with them and his extended family.
The family loves being outdoors, getting exercise, and just having fun being together. Dr. Mark practices what he preaches and gets a good workout in, whenever he can.
We're Here to Help
At Progressive Chiropractic, we're passionate about helping people get out of pain and living up to their true potential.
Contact our office today and speak with a team member to get started.

Dr. Mark Smith | (250) 590-7319