Auto Accident Chiropractic at Progressive Chiropractic
Automobile Injury & Whiplash Treatment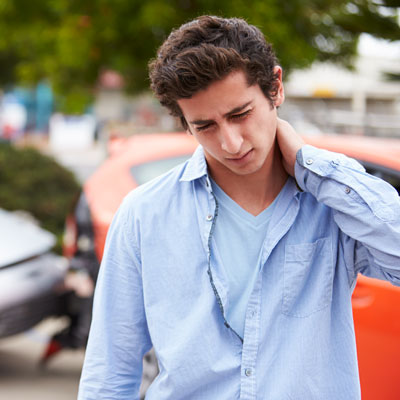 When a person is in an automobile accident, their body can be thrown in any direction, often resulting in a whiplash injury. After the hospital checks for fractures and other serious injuries, your next stop should be our office. The sooner you start receiving care, the faster the healing process can start!
How We Help You
Some people believe if there are no broken bones after an accident, everything is fine. In reality, the problem may be hidden behind the natural adrenaline rush from the collision. Many symptoms do not appear until days, or in some cases weeks, after the accident.
When symptoms are allowed to persist, they may lead to faster degeneration of the spine, loss of range of motion, headaches, neck pain that persists, and difficulties with concentration and focus. Also, the rest of the body may become dysfunctional to compensate for a spinal injury in the neck or other part of the back.
NEW CLIENTS

Assessing the Damage
Injuries of the spine are common, and the neck is especially important, because it's commonly damaged in a whiplash injury. Dr. Mark studied spines for 10 years using a technology known as Motion X-ray or Video Fluoroscopy. During those years of looking at spines, he saw firsthand how the spine appeared after whiplash injuries.
There can be restriction, instability, and injuries to the spine that actually mimic concussion symptoms. Making sure the spine is correctly aligned and functioning properly is of the utmost importance. Also, caring for whiplash clients is different from a typical chiropractic patient, as a little more care needs to be taken. And Dr. Mark is quite experienced in that regard.
What to Expect
Once your claim has been approved for care by ICBC, you can be seen at our clinic. Make sure you have your claim number, as well as the contact information for your adjuster—name, email address, and phone number. Our team is well versed in the process and will handle all necessary paperwork for your claim.

Auto Accident Chiropractic Victoria BC | (250) 590-7319